Ref:
Date:
Details:
Photographer:
[clikcontent type=paymentBuyLink replaceable=true]
Ref:
Date:
Details:
Photographer:
[clikcontent type=paymentBuyLink replaceable=true]
Online Seminar Video Classes through KelbyOne in the US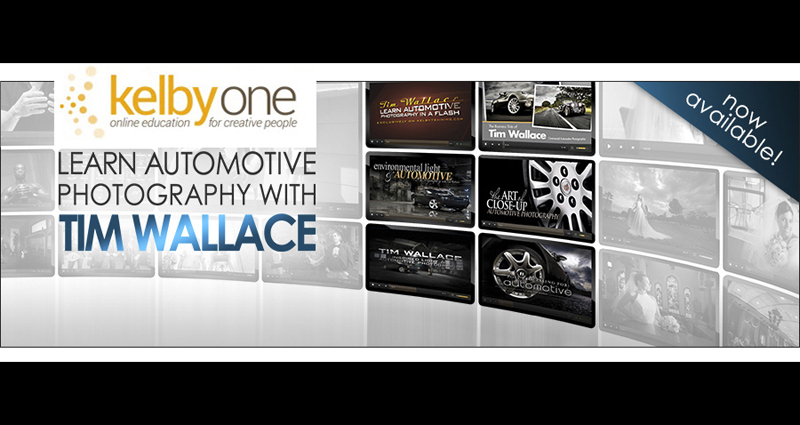 09/11/14
Tim has been a KelbyOne instructor for several years now and over in the US Scott Kelby described Tim as one of the most influential car photographers in the World today and Tim was invited to the US by Kelby and with their filming and production crew produced a set of one hour long video tutorials that cover the in-depth aspects of the lighting of cars in photography, Tim's the approach to a shoot and the issues and solutions that can arise in different situations and working with just available light effectively. These video seminars are available online through KelbyOne.


The video seminars have since proved a huge success and have received some great feedback from the tens of thousands of professional and amateur based viewers Worldwide that have used them to help them understand items from new lighting techniques to how to look at a scene and work to build up for a more atmospheric photographic capture. The videos also look at working with just one light for those that wish to try out and experiment in this field but have limited equipment available as well as some dedicated photoshop retouching and digital processing classes. Tim is now a regular guest at Kelby and continues to build on the catalogue of training videos available through his dedicated area on the Kelby site where he is one of the featured instructors in the World alongside some of the biggest names in the photography today such as Joe McNally and Jay Maisel.
You can also find 2 in depth interviews lasting over 1 hour each with Tim talking about the business side of the industry from setting up and first things to think about, through to client strategies and effective quoting as well as a second 1 hour video interview where Tim talks about what inspires him today and talks through the journey that led him to where he is today.





Online Classes with KelbyOne

In the US Scott Kelby described Tim recently as one of the most influential car photographers in the World today and Tim was invited to the US by Kelby and with their filming and production crew produced a set of one hour long video tutorials that cover the in-depth aspects of the lighting of cars in photography, Tim's the approach to a shoot and the issues and solutions that can arise in different situations and working with just available light effectively. These have since proved a huge success and have received some great feedback from the tens of thousands of professional and amateur based viewers Worldwide that have used them to help them understand items from new lighting techniques to how to look at a scene and work to build up for a more atmospheric photographic capture. The videos also look at working with just one light for those that wish to try out and experiment in this field but have limited equipment available as well as some dedicated photoshop retouching and digital processing classes. Tim is now a regular guest at Kelby and continues to build on the catalogue of training videos available through his dedicated area on the Kelby site where he is one of the 8 featured instructors in the World alongside some of the biggest names in the photography today such as Joe McNally and Jay Maisel. You can also find 2 in depth interviews lasting over 1 hour each with Tim talking about the business side of the industry from setting up and first things to think about, through to client strategies and effective quoting as well as a second 1 hour video interview where Tim talks about what inspires him today and talks through the journey that led him to where he is today.


9 in-depth lighting, photography and technique video classes now available with over 10 hours of material to view
KelbyOne - With Tim Wallace Checkout our online classes here at KelbyOne



KelbyOne Video Classes in the US

KelbyOne - With Tim Wallace Checkout our online classes here at KelbyOne